Company profile

Trade Name
Senko Denki Co., Ltd.
Date of Founded
February 1, 1949
Capital
¥98,000,000.-(US$890,909)
Group Total Capital
¥238,000,000.-(US$2,163,664)
Headquarters Address
8-16, Kitahama-cho, Yokkaichi-shi, Mie 510-8525 Japan
Tel
81-593-53-1711
Fax
81-593-52-5180
Website
E-Mail
Representative Directors
Hiroyuki Yokoyama, President
And other 8 Directors, and 1 Auditor, and 5 Executive Officers
Group Total Employees
665 persons
Numbers of Group Sales Office in Japan
35 Offices in Tokyo, Chiba, Mie, Aichi, Gifu,Osaka
Bank Reference
Sumitomo Mitsui Banking Corporation
UFJ Bank Limited
The Mie Bank, Ltd.
The Bank of Tokyo-Mitsubishi, Ltd.
The Hyakugo Bank
Affiliated Overseas Companies
Taiwan
Taiwan Senko Co., Ltd.
17F-3, No.97, Sec.1, Xintai 5th Rd., Xizhi Dist.,
New Taipei City 221, Taiwan, R.O.C.
Tel.886-2-2697-5585 Fax.886-2-2697-3382
China
Shanghai Senko Denki Co., Ltd.
Room 5H, 1138 Changanroad, Shanghai, China
200070
Tel:86-21-6123-5056 Fax:86-21-5106-8038
United Arab Emirates
Senko Mid East FZCO
P.O.BOX 54761 Dubai,
United Arab Emirates
Tel:+971 4 609 1400 Fax:+971 4 609 1403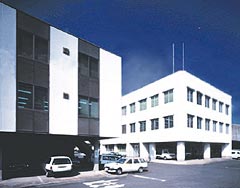 SENKO Denki Co., Ltd.